Model Portfolio Book
For a professional impression at your next casting.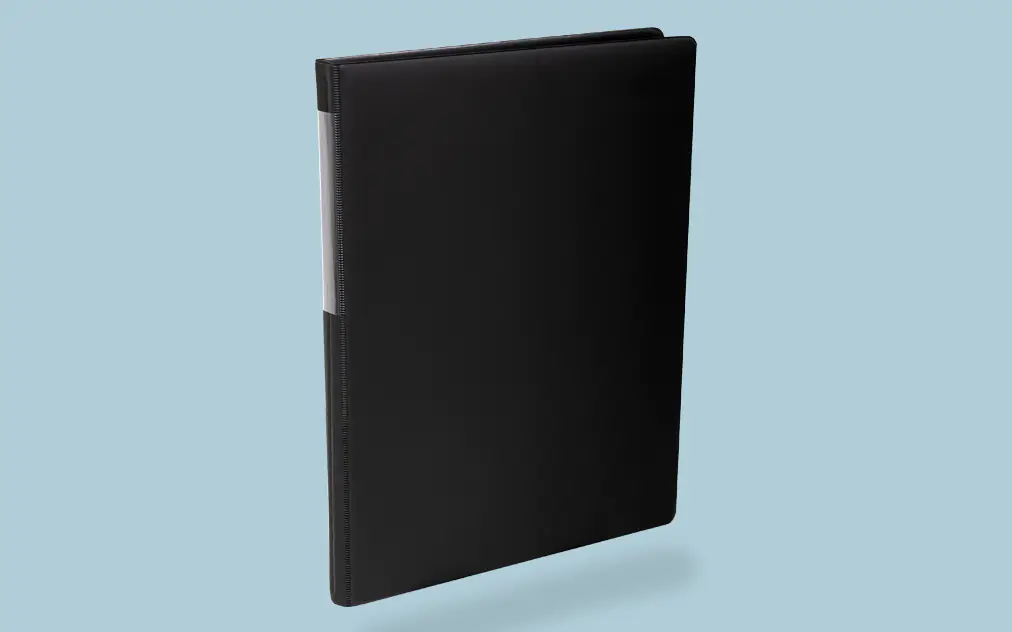 Original Modeling Book
When you are invited to a casting, it's important that your pictures show how versatile and changeable you are. Our modeling portfolio book presents all of your facets in a highly professional manner.
With a model book (also known as a model folder, photo folder or lookbook) your photos should not only be of high quality, but also neatly attached for presentation. Your model portfolio should meet certain industry standards, and communicate the integrity of your work. A high-quality look and feel alone makes a big difference for modeling agencies and photographers.
If you're looking for the ideal high-quality album, purchase your model portfolio from us. Our slim model folder contains twelve firmly integrated sleeves (for 24 pictures in A4+ format) and leaves a genuinely qualified first impression thanks to its materials and format. You also have space for your comp card and contact information with additional compartments included.
Original model book in black
Lovely soft-touch surface
Compartment for comp card / documents
A4+ size (10in x 12.79in)
12 shrink-wrapped sleeves (max. 24 images)
Black paper insert in each case
Buy Now
Our Model Book in Action!
Put yourself and your pictures in the right light: thanks to the quality look and feel of our professional model folder, you'll leave a positive and qualified impression at castings.
5 Reasons to Have Our Model Book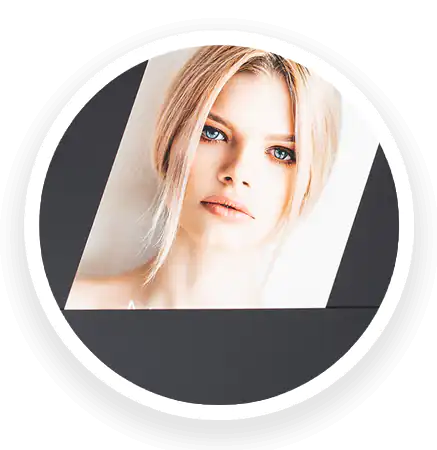 Space For Documents
A truly professional presentation of your pictures and details ensures a higher number of commitments. With this in mind, our original model book contains additional compartments for your comp cards, business cards and other important documents like applications and resumes.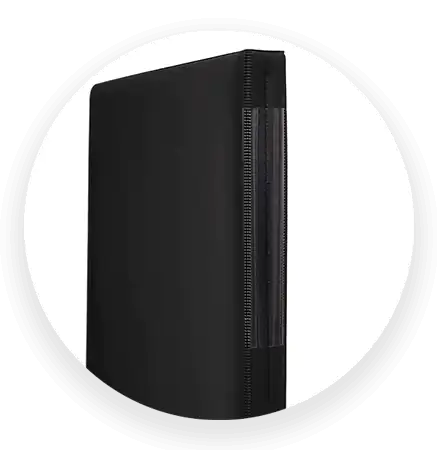 Your Folder
Our model folder has a slot for a small name tag so that you can clearly see whose pictures it is. Ideal for displaying your name, contact details or model agency - an often overlooked but highly important detail.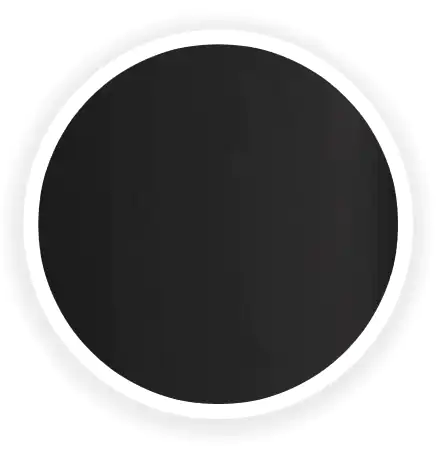 High Quality Finish
Our original model book not only looks good, but also feels amazing: the pleasant soft-touch surface tempts your senses, leaving a flawlessly enticing impression.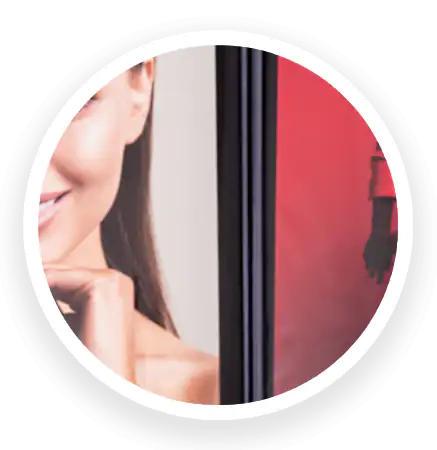 Black Dividers
This tried-and-tested detail provides a non-slip surface and gives your photo folder the final, most professional touch. Your images retain their contrast and sharpness, because distracting transparency to the images behind them is skilfully prevented with black dividers.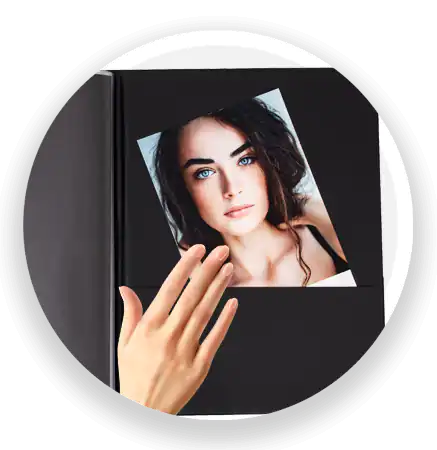 Handmade
Our original model book is carefully handcrafted for you. With great care and attention to detail, we create your personal model portfolio so that you can present yourself professionally, no matter where you are applying.
Frequently Asked Questions
Don't see the answer you're looking for? Contact us easily via live chat
What formatting does the model folder have?
The format for our model book is DIN A4+, which is slightly larger than the normal DIN A4. When closed, the model book measures 25.5cm x 32.5cm or 10in x 12.79in. Opened, it is 54cm x 3.5cm or 21.25in x 12.79in.
What format should the images in a model portfolio have?
DIN A4 pictures (8.2 in x 11.6 in) should be perfect. The black photostock in each film ensures that the pictures can be pushed easily into the film and that details do not bleed through on the other side.
What kind of material is used?
Our folders are made of plastic. The exterior envelope is finished with a black soft touch film. This ensures a high-quality feeling and looks exquisite, too. The flexible film is 1.0 mm foamed, A1 quality and phthalate-free.
What size is the pocket on the inside of the folder?
The pocket extends over the entire width: approx. 24cm wide and 120cm high (9.44 in x 4.72 in). You can make a particularly professional and qualified impression if you use this space for your comp card or other relevant documents.
Can I use the model book as a presentation folder?
That's what it was made for! A high-quality, simple photo folder definitely makes sense for professionals such as actors, photographers and designers. However, other industries that want to present their work with an emphasis on its visual aspect would also do well to use our folder.
Do you also print out just the pictures at the same time?
We do not currently offer the service. However, we are currently working on it and hope to provide photo printing very soon.