Premium Service
Our graphic designers are here to help!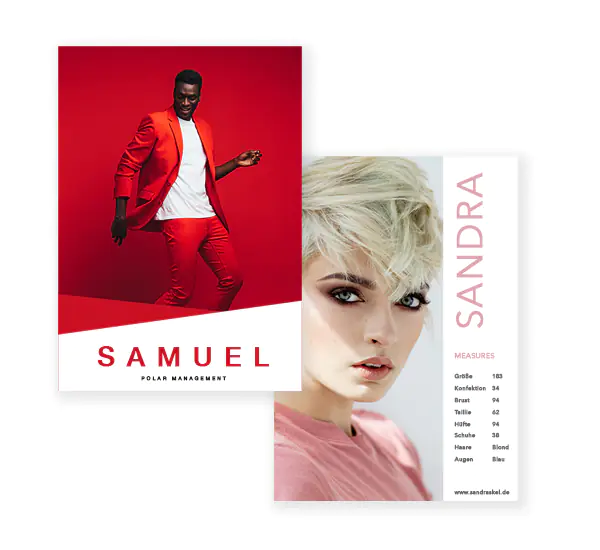 Professionally Designed
With our premium service, you can easily have your comp cards created by our experienced graphic designers. We respond individually to each query, design your card exactly as you imagine it, and guarantee a powerful design and print quality. Simply send us the pictures that you would like to have on your comp card. Would you prefer a special color or want to highlight certain images? No problem. We design according to your wishes and will send you three design suggestions within 24 hours. Using these three templates as a basis, we will then collaborate to create your perfect card with our graphic designer. Only with complete satisfaction in your results do we send your comp card in PDF and JPG file and to print.
ORDER NOW
How it works
First, send us your pictures. You can also provide a font and font color if you have a preference, as well as any other suggestions or context for the result you are looking for. If the graphic designer assigned to your card has any questions they will get back to you as soon as possible.
In the second step, we create three individual designs that take all of your ideas into account. Your designated designer will ensure that each draft implements the best combination of features. After you have looked at these drafts, we make improvements and continue to develop the comp card until you have your perfect result.
As soon as you give the approval, your comp card will be printed in your selected edition and mailed off to you. There are a variety of different options that you can choose from to further personalize your comp card, such as matte or high-gloss finishes. Choose the amount of cards you would like printed, and you're done!
Frequently Asked Questions
Don't see the answer you're looking for? Contact us easily via live chat.
I have a clear idea of what I want. Does the graphic designer also implement special custom requests?
Yes. Our graphic designers base their design on your specifications. If you already have a template, they will use this for inspiration. A second or third round of revisions is no problem. Of course, we also integrate QR codes, company logos, sponsorship logos and other specified graphics and images to your card.
How much does the premium service cost?
The cost of the Premium Service is $99 plus printing costs. The exact amount is calculated based on the amount of the printing costs. We'll let you know the specific price after you've submitted your request. After delivery you will receive an invoice detailing the amount due.
In what format is the comp card printed?
You will receive your sed card in the standard size DIN A5. With the premium service, other formats such as folding cards are also available.
How long does the delivery take?
The time until delivery depends on the complexity of your design and how many corrections are necessary. As soon as you have approved it for printing, you will usually receive your sedcard within five working days - but this also depends on where you are located.
I need telephone advice.
Our pleasure! Our team will contact you after your request and answer all your questions directly.
Do I also get my comp card as a digital file?
Yes, you will receive your card in PDF and JPG format. You can also receive your comp card printed out to our highest standards of quality.