How to become a Bridal Model
6 tips on how to become a bridal model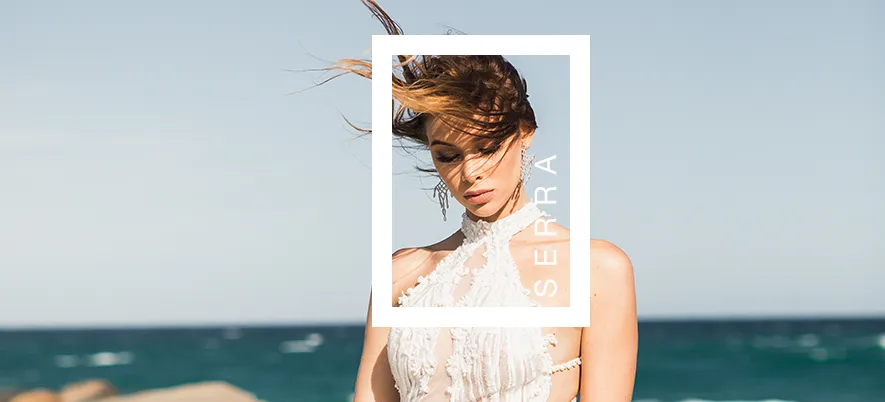 Many people agree that a bride exudes a special kind of beauty. It is not surprising, then, that many model agencies and bridal fashion designers from Germany, Austria, and Switzerland are now looking for bridal fashion models who can convey this special feeling outwardly. Whether you are already married or have recently discovered that the color white looks incredible on you, you may have already thought about becoming a bridal fashion model.
If you are still a little unsure about how to go about it, you are in the right place. We will explain everything you need to know about polaroids, comp cards, and model books! It is certain that a bridal fashion model does not only show how a wedding dress can look and be staged. Rather, the corresponding images are also about conveying a special kind of emotion.

Polaroids and Digitals - The Aspiring Bridal Fashion Model in the "Basic Look"
Many brides think for weeks and months about how they want to celebrate their "Big Day." Among other things, it is of course about the appropriate make-up, hairstyle... and THE dress. Polaroids and Digitals represent a certain contrast to the bridal look because they are comparatively simple.
To create your polaroids or digitals, you need tight-fitting clothing (preferably in black or white) and a white wall. Make sure that you are not too heavily made up (NO bridal make-up or similar), and present yourself in different poses and with different facial expressions. This way, you show the agencies that eventually hold your pictures how versatile you are. Experienced photographers and bookers can quickly assess whether you are suitable to meet the requirements of a particular campaign.
It is particularly "practical" in this context that you do not necessarily have to rely on the work of a professional photographer to create polaroids. You can also create your pictures at home - in front of a white wall and with the above-mentioned details. This way, you can save a little money right from the start of your potential modeling career.
Your Pictures Belong in the Comp Card
You have created your own polaroids, maybe even had several pictures taken by a photographer, and are now looking for a suitable way to present them to model agencies, designers, and photographers? In this case, you need one thing above all: a comp card. This is basically a "collection" of pictures that allows you to show interested parties what qualities you bring as a bridal model.
One aspect that can provide a particularly professional impression is the fact that a modern comp card is built according to certain standards. This means that the interested prospective clients know exactly where they can find information about weight, height, name, contact details, and other details.
Whether you only rely on a comp card or prefer to keep your polaroids in a different compcard than your classic bridal fashion photos is, of course, up to you. There are certainly models who divide their pictures in this way to create even more structure within their application. However, for this to be worthwhile, it is advantageous if you can rely on a sufficient number of pictures. Additional tip: If you want to become a bridal fashion model and convince your potential customers of your versatility, it is helpful to include pictures of different types of wedding dresses in your comp card. After all, there is not only "ONE wedding dress." Bridal fashion has become more and more individual over the years. Many women also attach importance to getting married not in white but in another color. It is precisely this desire for versatility that you should fulfill with the pictures in your comp card.
If you want to become a bridal fashion model but haven't created a sedcard yet, you can create your modeling comp card here.
It's easier than ever: Applying as a bridal fashion model
If you want to become a bridal fashion model, you can apply to different bridal fashion designers in your city or in Germany, Austria, or Switzerland, apart from model agencies. A classic way to apply is via email. However, nowadays it's also possible to apply for a job via social media platforms like Facebook or Instagram. In any case, you should make sure to meet the requirements of the agency and designers and make a positive impression at first glance. One important aspect that plays a particularly important role is the structure of your data. Here, the sedcard mentioned above can also help you.
Especially if you are already active on social media platforms, it's often worth considering applying via hashtags. The chances of success are not bad, especially on Instagram. The principle is simple: you post your pictures and tag them with hashtags that ensure that the corresponding model agencies notice you. The list of possibilities is very long.

You can find some hashtags for models for free here!
Do bridal fashion models also need a model book?
Especially leading agencies would answer this question with a clear "YES!" Because: a model book and a compcard differ in several details. One characteristic is that the model book always comes in DIN A4 format. This gives you the opportunity to present yourself even more high-quality and appealing and to give your application the "final touch." In addition, a sedcard is sent in advance, while the model book should always accompany you to castings.
Therefore, you should not only rely on a comp card, but also on a model portfolio book.
By the way, you can get the original black model book without agency branding from us. This way, you have the opportunity to apply for jobs independently without always having to refer to an agency. Such a model book is much more than just a black cover. Agencies are able to distinguish a professional model book and a "black folder" from each other at first glance. Are you proud of your pictures? Then you shouldn't just showcase them "somehow," but rather emphasize them in high quality.
What does it take to become a bridal fashion model?
A bridal fashion model should not rely solely on the dress to do the work. Instead, models who focus on this area must be able to present themselves in an appealing and interesting way in front of the camera. But how?
You can find posing inspirations in this posing book, among other places. Just try out a few variations and discover how varied and appealing bridal fashion images can be.
However, to create the foundation for a (hopefully successful) career as a bridal fashion model, you should also enjoy what you do. Do you love wearing bridal gowns and presenting the happiness that so many women have felt? In this case, you might be very well suited for this business.
A bridal fashion model who can present their photographer with new impressions of anticipation, romance, and playfulness brings much of what is needed for professional success in this field.

Bridal fashion models inspire many women worldwide.
Sure, the search for the "perfect" wedding dress can be exhausting. Nevertheless, most brides-to-be would likely agree that it's incredibly fun to be inspired. Therefore, bridal fashion models have an important task to fulfill. To convey emotions. The same feeling must also be conveyed by curvy models and those who want to become pregnant models.
In any case, it is important to stay on the ball. Not every one of your applications will be answered positively. This is absolutely normal! But just as it is important to kiss more or fewer frogs to eventually find the right groom, it is also essential not to give up here.
Working as a bridal fashion model can be incredibly fun and can often lead to discovering a new side of yourself. Use the opportunities that come with a comprehensive sedcard and high-quality model book, and constantly discover how exciting it can be to inspire women on their way to the "most beautiful day of their lives".
Write the first comment.