How to become a Best Ager Model
6 Tips & Hacks for your Best Ager Modeling Carrer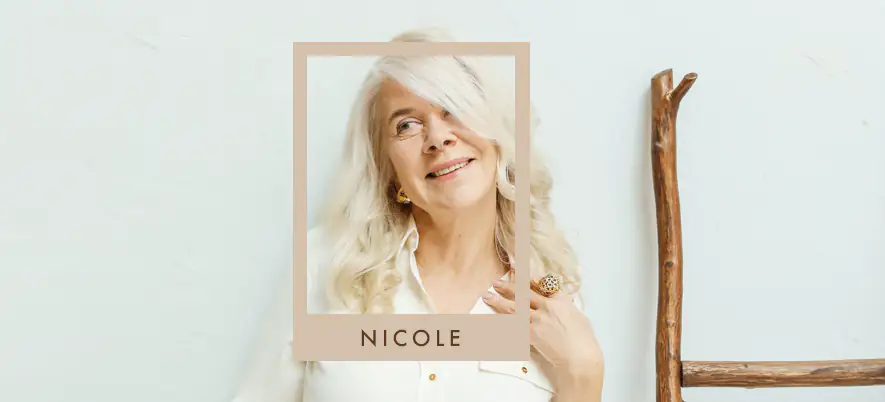 A look at fashion company catalogs and the world's runways shows that Best Ager models are more popular than ever. Do you want to start your career as a model in your age group? Perhaps you are also considering whether you have what it takes to be a Best Ager model?
In this text, we want to reveal many things that you should consider when starting your career as a Best Ager model. Among other things, you will also find tips on how you can save money, for example, when creating your polas. One thing is certain: It takes more than just good looks to become a male or female model in the Best Ager field. It is important that you are passionate, adaptable, and, of course, have fun with it.
Polas and Digitals
You don't necessarily need a professional photographer for this. If you have been interested in modeling as a Best Ager for a while, you know that the so-called polas should not be missing from your image portfolio. With them, you can introduce yourself to model agencies and show what makes you unique.
It is characteristic that polas are relatively simple. The pictures, which are also referred to as "digitals":
are taken in front of a white wall
are bathed in bright light
show the model in simple, mostly figure-hugging clothing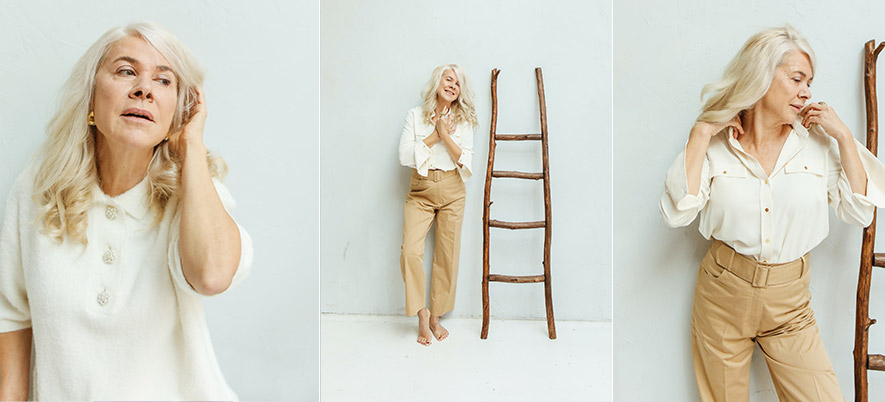 Photo by Polina Tankilevitch
Due to the fact that neither flashy clothes nor makeup and other distractions from your natural self, agencies can see at a glance how adaptable you are. It's best to emphasize this point by smiling in some of the polas and not in others, as different campaigns and demands require different looks.
But did you know that there is a huge savings potential behind the aforementioned polas? After all, the simple setup means that you do not necessarily have to hire a professional photographer. With a little practice, the right background, knowledge of the "metadata" for perfect polas, and a friend who photographs you, you can easily create your own digitals.
The Comp Card for Best Ager models
Do you want to introduce yourself as a Best Ager model to model agencies? Then you not only need the before mentioned polas but also a model comp card. Their advantage: Classic model compcards have a standardized structure. Experienced employees of agencies know exactly where to find which information.
One thing is certain: such a structured comp card leaves a much more professional impression than an email in which you have packed several attachments and your data on measurements, size, hair color, etc., is "somewhere" between the subject line and the text body.
Additional tip: Not only in the Best Ager field, but also generally, many models rely on two comp cards. They keep their polas in one and photos showing their adaptability in the other. Whether you want to start directly with two Best Ager model composites or whether you want to start with one first depends, of course, on how many pictures you have already taken in the past.
Have you made the decision to become a Best Ager model? Are you now only looking for the right comp card? Click here if you want to create your best ager comp card for modeling now.
How to apply as a Best Ager model to model agencies?
A lot has happened in this area over time - including, of course, due to social networks. The application process for people who want to become Best Ager models has become much more diverse over time. Depending on the call and model agency, you can usually send your application via an online form or by email.
An approach that has also gained particular popularity is applying to agencies or promoting oneself through Instagram. Of course, for the latter, you need the appropriate hashtags. With their help, you can improve your chances of being found by your preferred agencies.

You can find some hashtags that are suitable for this purpose at this link, of course, for free: 75 scouting hashtags for models.
The Model Book - A "Must Have" for Best Ager Models?!
You may be wondering why you should bring a model portfolio to a model agency, casting or audition when you already have a comp card. To answer this question, it is worth understanding the differences between a compcard and a model book.
With a model book, you have the opportunity to show more photos and impressions of yourself in a larger DIN A4 format. The sedcard is often sent in advance so that bookers, companies, and photographers can get a first impression of you. However, relying solely on the larger format of the model book would be wrong. You should also not compromise on the quality standard. In other words, a black photo album is not a model book.
We offer you the opportunity to secure a model book through our website - completely without agency branding. This way, you can also apply for jobs and castings as a Best Ager model independently. With the original model book, you ensure that nothing distracts from your high-quality images and your potential clients can concentrate completely on you and your versatility. This plays an important role, especially in the field of senior models, as age comes in countless facets. Whether someone has the potential to model as a senior depends on different criteria, not just appearance.
Do I have what it takes to become a Best Ager Model?
Modeling in the Best Ager category can be incredibly fun, but it is also associated with challenges. Therefore, it is legitimate to ask yourself beforehand whether you personally have what it takes to enter the business.
One point that should definitely be considered in this case is that a successful Best Ager model must function well in front of the camera. Your clients expect not only punctuality and discipline from you but also charisma and versatility. The psychological component also often plays an important role in this context.
In numerous campaigns, for example, the goal is to convey to viewers that getting older is fun (and definitely not bad). As a Best Ager model, you should definitely radiate this kind of attitude. If you are also convinced of this, even better!
In addition, you should be able to offer photographers a variety of poses. If you are looking for inspiration, it is worth taking a look at this posing book, which provides numerous poses and information for models to showcase their versatility. But don't forget to stay authentic! Best Agers are in the midst of life and know what they want. And that's exactly what you should radiate with every picture.
Having fun and passion: Especially as a Best Ager
Best Ager photography is associated with a very special attitude towards life. However, with regard to an important factor, this business does not differ from those who want to become male or tattoo models: having fun is very important. You can usually enjoy this even more if you inform yourself beforehand, know what is expected of you, and deliver a high level of quality - both in your pictures and in your model portfolio and sedcard.
Of course, the competition is not asleep, and nowadays, many people discover modeling for themselves again, especially after the age of 50. Therefore, it is even more important to stand out from the crowd and showcase your own type as best as possible. Not only with the right poses but also with a healthy attitude towards aging.
Write the first comment.