How to become a Curvy Model
6 Tips for your Curvy Modeling Carrer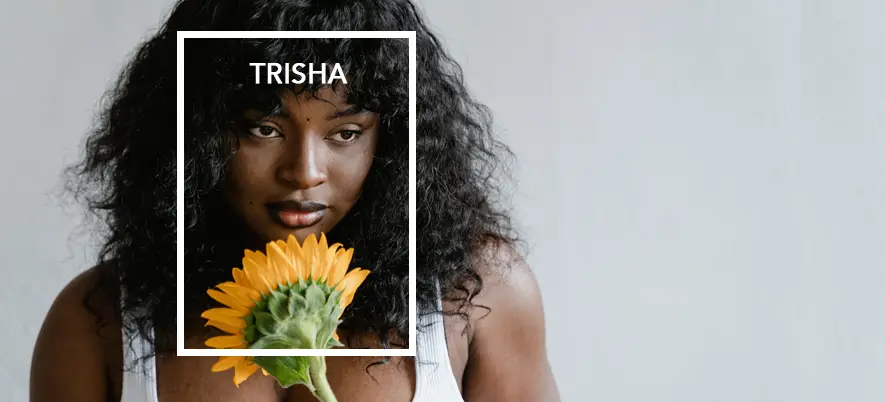 In recent years, there has been a growing demand for individualized models due to social change and the "body positivity" movement. Curvy models, also known as Plus Size Models, are increasingly sought after for developing exciting campaigns. The times when it was only about presenting "90-60-90" are over. Rather, exceptional models are sought who proudly showcase their curves, as they are considered sexy. If you want to become a curvy model, there are numerous model agencies in Germany, Austria, and Switzerland that are constantly looking for individual and attractive faces and bodies.

But what should you keep in mind if you want to become a curvy model? What requirements should you bring, and what does a promising application look like? The following sections can help you create a meaningful and optimal model application. Additionally, we want to show you that pushing your career as a curvy model doesn't have to be expensive. For example, you don't necessarily have to visit a photographer to create Polas or Digitals. Instead, you can use a cost-effective alternative, which we will explain in the following section.
Polas and Digitals - Showcasing your curves
Every curvy model who wants to apply professionally to agencies will inevitably come into contact with Polas and Digitals. They are some of the most important images because they showcase the model as "raw material." This makes it easier for potential clients to transfer their ideas to various campaigns and motifs onto the model and consider which assignments would be feasible with that person.

Polas and Digitals are very characteristic images with a high recognition value. The model positions themselves in front of a white wall and wears simple and form-fitting clothing that helps showcase their curves. Black clothing, a simple top, and leggings are sufficient. To provide the customer with a neutral appearance, the makeup, if applied at all, should be very subtle. The model is then photographed frontally, sideways, and in portrait. Ideally, images with a smile and a neutral facial expression alternate.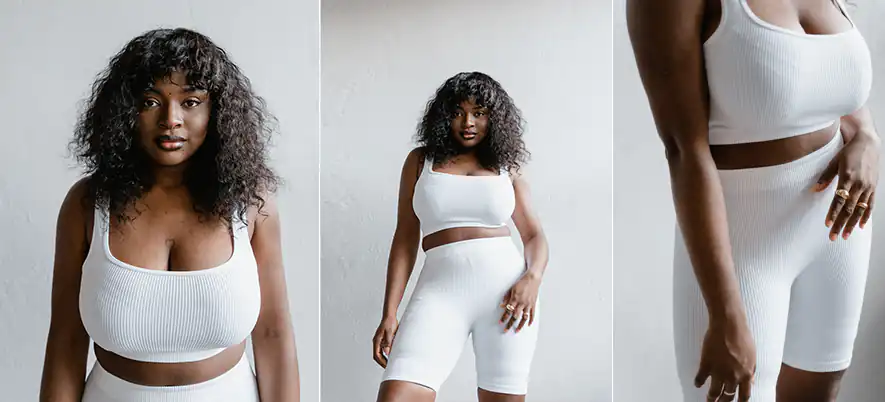 Fotos by Mart Production

You want to become a curvy model and save money when creating your application? No problem! It doesn't necessarily require a professional photographer to create your polaroids and digitals. The "famous" pictures can alternatively be taken easily at home in your own four walls. Make sure that not only the pose and face are right, but also the lighting. It's best to try out different variations.
Comp Card for Curvy Model
If you want to become a successful curvy model, you need a modeling comp card, among other things. Your compcard shows the customer a colorful selection of photos, presenting the model in different poses. Whether you are applying to a model agency, photographer, or company, a model comp card is almost always required. Therefore, it is important to have this "application medium" at your disposal.
This format offers you the opportunity to show how versatile you are. In addition, it follows a structured layout. Experienced employees in agencies know exactly where to look for your name, height, weight, and other data. A comp card should showcase the model in different stylings, outfits, poses, and locations to provide a diverse overall picture. There are hardly any limits to creativity here. It's best to create a "colorful mix" of your favorite pictures.
If you have already created several polaroids and classic curvy model pictures and want to present them more structured, it may also be worthwhile to create two cards: one exclusively for digitals and another exclusively for model pictures in different poses.
Tip: The customer is looking for a curvy model for swimwear? Then make sure that there is a swimwear photo in your composite.
If you want to become a curvy model but don't have a comp card yet, we are happy to help. You can find important and interesting information on how to create a comp card here.
Where can a curvy model apply?
Curvy models are currently in high demand. Many fashion designers have already been inspired by curves and create fashion that also makes women feel comfortable beyond the 90-60-90 model size. This also means that models are needed to showcase the fashion in the best possible way.
Currently, there is a high demand for curvy models. You will surely find many relevant requests on the internet. The respective announcements usually indicate in which form the application is desired. You usually have the choice between the traditional postal or digital way.
Meanwhile, social media also provides an ideal platform to connect models and clients with each other. In various groups, you can search for ads that can bring you closer to your dream of becoming a curvy model. Hashtags are particularly useful, especially on Instagram, as they improve your reach and can draw attention to you from model agencies.
You can find many exciting hashtags for curvy models here >>
Do I need a model book as a curvy model?
The original model book for curvy models is a supplement to a comp card and is usually available in DIN A4 format. With its help, you can showcase your model qualities even better. It is also your constant companion at castings, fittings, and auditions. The more selection you can present, the more you show your versatility.
There are also some rules to follow in this regard so that you can make the best possible impression and stand out from the rest of the applicants. The famous first impression is particularly important in this context. Do you still need a professional and high-quality model folder? Then we can help you. You can get the original black model folder at a low price. The folder is not branded and does not refer to any agency. This way, you can also shine as an independent model.
One thing is for sure: a curvy model should have both a sedcard and a model book to highlight their versatility.


Do I have the potential to become a curvy model?
First things first: a rejection should not deter you from your dream of becoming a curvy model. Every model has been confronted with a "No!" at least once. If you still model with fun and passion, you should keep trying even after a setback.
But what requirements must be met to become a perfect curvy model? Especially in this area, people with a special beauty feature and an individual charisma are preferred. Curvy models should feel comfortable in their body and radiate that outwardly.
Professional models, regardless of whether they operate in the curvy or other areas, should be able to present a product and themselves in a new light repeatedly. Good looks alone are not enough for a modeling job. You can find tips and tricks for curvy models in our posing book.
All of the poses shown there are also great for curvy models to implement. Of course, it is always important that you feel comfortable in the pose in question in order to deliver the best possible results.
Become a curvy model - don't let yourself be discouraged!
Parallel to the popularity of the "body positivity" movement, the demand for curvy models has steadily increased. Therefore, many women are currently trying to make a breakthrough in the modeling industry, either part-time or full-time. However, you should not be discouraged by the large competition. Perhaps you see the competition as a motivation?
It is, by the way, a prejudice that curvy models are only hired to present plus sizes in the fashion industry. The list of possible assignments is long and goes far beyond wearing clothing beyond XL. Many assignments relate, among other things, to body positivity campaigns or similar.
To be authentic as a curvy model, it mainly requires a healthy, optimistic, and joyful body feeling. The rest often comes naturally on its own.
Write the first comment.