How to become a Male Model
6 Tips for Becoming a Male Model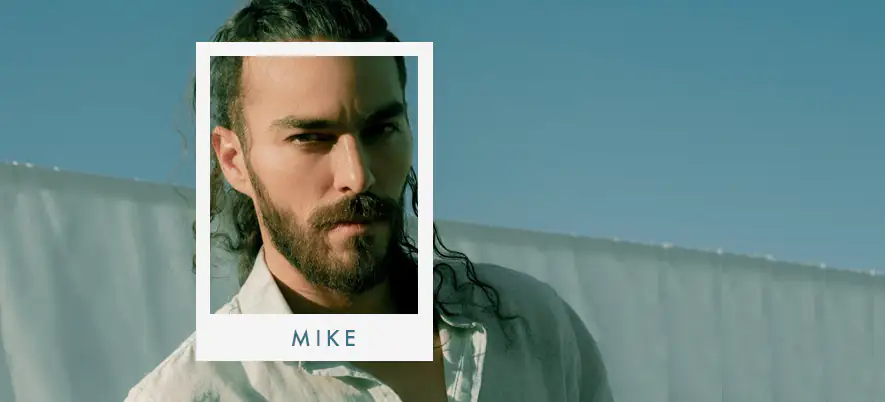 You want to become a male model, but you're not sure where or how to start? Perhaps you already have a big dream and a plan in mind and you keep wondering if you're on the right path? Either way, such thoughts are absolutely normal - especially if you're a newcomer.
In this text, you will learn many things that you should know about being a male model, male modeling agencies, and more. Did you know, for example, that you don't necessarily have to visit an expensive photographer to create your polas, or that reputable modeling agencies now also scout on Instagram and TikTok?
The Right Photos - Polas and Digitals
If you want to become a male model, you know that you need photos. And not just when you've landed your first job, but earlier on. After all, you want to apply to the agencies of your choice and make a good impression, right?
One type of photo that is often asked for in this context is the polas or digitals. (Both are actually the same.) They are characterized by a particularly high recognition value because:
They are taken in front of a white wall
The lighting is relatively bright
The model wears form-fitting clothing or underwear
Some photos show a smile, some do not. This shows the agency your versatility
A complete selection of polas includes full-body and portrait photos
Polas are taken frontally, in profile, and at a 45% angle
As you can see, polas are not exactly rocket science. You can, but don't have to go to a photographer. With a little practice, the right lighting, and the right equipment, you can also create your photos at home.
Male Model Comp Card
Now it gets serious. Because if you want to make a positive impression on agencies, you should definitely have a comp card for male models. This is structured according to a certain standard and offers the person who looks at it a good way to orient themselves directly.
Wouldn't you also find it more pleasant as a booker to be presented with a proper compcard instead of having to rely on an email with jumbled information about name, age, measurements, and size? The psychological component that a sedcard brings should not be underestimated. Because if you leave a positive impression, the employees who work in the agencies are usually more interested in dealing with your person.
By the way, most professional models use two sedcards: one for their polas and one for photos that underline their individual versatility. Depending on how many photos you already have of yourself, you can of course also start with just one sedcard.
You want to become a male model and are now looking for a comp card? No problem! Here you can get your male model comp card now!
Application to Model Agencies
The application process for model agencies has changed significantly over the last few years. Nowadays, you can often apply via email, online form, in person, or even through social media platforms, particularly Instagram. To avoid traveling long distances for potential model castings for men, it makes sense to first search for terms such as "male model agency" + your city on Google.
It should go without saying that you should only apply to reputable agencies.
Tip: Models and Instagram are inseparable. Model agencies have also recognized this and many agencies have now created their own scouting hashtag. This is a hashtag that you can use with the pictures you want to use to apply. The scouts of the respective agency regularly browse through the pictures with the respective hashtags, and with some luck, you can be discovered. However, to be found by the respective agencies, it is important to know the right hashtags.

That's why we have compiled 75 model scouting hashtags for you. Of course, it's free.
Original Model Book
Your best friend for Castings and Auditions. Have you been invited to a casting at a model agency or client? In this case, you should definitely bring your Modelbook with you. The difference to the comp card is that you can present more photos, more poses, and therefore more impressions of yourself in this book. Another advantage is that the pictures here, unlike the compcard, are displayed in large format (DIN A4).
In this context, it's best not to rely on "just any black photo album," but rather on the original model book. This is used by many leading model agencies and makes an extremely high-quality impression. The black dividing pages in each foil ensure that your pictures are presented in a high-quality manner and that nothing distracts from your photos.

Get your model book now - without agency branding ->

Conveniently, with the help of this neutral version, you can apply independently to clients without having to refer to a specific agency. Additionally, the neutral appearance ensures that nothing distracts from your pictures. The bottom line is that becoming a male model doesn't have to be complicated. What you need are helpful tips and the right equipment.
Do I have what it takes to model as a man?
This is a question that almost every male model has surely dealt with in the past. There is no "perfect formula" for this. However, whether you are suitable as a model or not largely depends on how you present yourself in front of the camera. The good news is that modeling is one of the areas of life that can be learned. Therefore, it is important to practice, practice, practice.
Have you ever heard of so-called TFP photo shoots? The pictures that are taken here can be used for your own portfolio and, incidentally, you can gain new experiences. If you want to practice male model poses and show a new side of yourself, such a TFP shoot is a wonderful opportunity to get out of yourself.
If you want to learn more about becoming a male model and are looking for some inspiration, we recommend this posing book. Here you will find many exciting tips and tricks for male poses and more. Alternatively, you can find endless sources of inspiration, tips, and tutorials on the internet. Good and free sources for posing ideas are Pinterest, YouTube, and Instagram.
Very important: to become a male model, you must stay on the ball!
Whether you want to become a fitness model, bridal model or tattoo model, you should never lose your motivation. Yes, the competition is great, and it may be a little naive to expect that the best model agency in town has been waiting for you for years. At the same time, you should not underestimate your chances of having a successful male model career.
There are certainly some details that can help you create a good foundation for your (hopefully upcoming) success. You won't find a guarantee here either, as much as we would like to give it to you. But if you take a little time to put together a high-quality sedcard or model book, keep working at it, constantly make new contacts, and have no fear of new poses to better highlight your own type, the dream of becoming a male model does not have to remain a dream.
The more you step out of your comfort zone, the easier it may be to show not only modeling agencies and potential clients, but also yourself, your versatility.
Write the first comment.